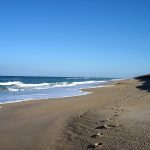 Florida's Canaveral National Seashore is one of the top destinations for locals and visitors to Florida's East-central area alike.  The pristine beaches of the Canaveral National Seashore (spanning Brevard and Volusia counties) provides a unique opportunity for those seeking the "Old Florida" experience.  This coastal area is easily accessed from Orlando or those travelling Interstate 95 (see map), but don't expect the usual beach amenities.
There are no cars on the beach, no places to rent rafts or buy sodas, no pier parties, no condos, no surf shops, no motels or lights.  But that's part of what keeps the 23 miles of pure Florida sand so unique.  The Canaveral National Seashore, situated south of New Smyrna Beach to Titusville, includes 3 beaches (Apollo, Klondike & Playalinda), and is one of the last of the Florida wildernesses areas.
A notable amenity also missing from the usual beachside experience is fresh water.  No drinking fountains, sinks, or showers to rinse from your beach activities.  There are restrooms provided absent of running water at the parking areas.  Visitors should plan to bring not only water to drink during their visit, but additional water for rinsing after a day on the beach.
What you will find at the Canaveral National Seashore are pristine beaches of large-grained sand, heaped into dunes protecting the area from occasionally rough seas.  The shoreline and accompanying inland areas provide numerous eco-systems which support abundant wildlife. These areas have been left in a state as close to "natural" as possible in a publicly accessible park.
The beaches of the Canaveral National Seashore; Apollo, Playalinda and Klondike are not as convenient as popular "motorized" beaches found to the North in Daytona or New Smyrna.  Everything you need for your activities will have to be hauled several hundred yards from the parking lot to the beach, which is reached by crossing over board-walked dunes covered with sea oats and palmettos.
The park charges a small admission fee at both the entrance located near Titusville, and the northern entrance South of New Smyrna Beach.  Early morning is the best time to get to this popular destination especially on holiday weekends when some of the lots fill up fast.  There is no roadside parking or stopping allowed in this National Park, so be sure to use the designated parking areas when visiting.
About 300 parking spaces are available at Apollo Beach on the north end, seven miles south of New Smyrna Beach on State Road A1A.  Playalinda Beach, which begins at the junction of State Road 402 and the Atlantic Ocean, near Titusville, has room for 1,100 vehicles.
Because of its proximity to Kennedy Space Center, Playalinda Beach and the entire Merritt Island Wildlife Refuge closes during launch preparations.  Depending on the launch type, closures vary in duration, but it reopens the day following a launch.  In addition, since Playalinda Beach is adjacent to NASA property, security regulations are closely followed. Visitors should heed signs that warn them away from certain areas and structures within the park.
Canaveral is the birthing place for hundreds of sea turtles annually.  As common to this area of Florida, a variety of sea turtles come ashore during the night, dig nests with their flippers and deposit eggs starting in late May.  These eggs will hatch in the late summer and early fall, so avoid walking on or setting up your day at the beach plans near these nests.
The wildlife refuge is home to 13 species of endangered or threatened species of wildlife.  Its skies are the territory of such birds as the southern bald eagle and the peregrine falcon, on the land can be found the eastern indigo and gopher tortoise, and its waters are the refuge of manatees.  These, and other endangered species are frequently encountered in the Canaveral National Seashore and adjacent Merritt Island National Wildlife Refuge.
Some of those endangered or threatened species might be glimpsed during the drive to the beach which provides several parking locations for stopping and taking photographs.  If time allows during your visit, consider taking a leisurely tour of the six-mile-long Black Point Wildlife Drive, off State Road 402.  This one-way road of crushed coquina is well maintained and meanders along the inland eco-systems providing habitat for a wide variety of local and migratory wildlife.
At Apollo Beach, historic Turtle Mound provides some insight into the ways of life of the Timucuan people.  These nomadic Indians once lived in the area, calling the Canaveral National Seashore area home.  Turtle Mound is a shell midden (a mound of animals bones and refuse such as shells) deposited there by the Indians.
The main draw of Playalinda, Apollo and the remote Klondike Beach (accessible only by boat or hiking in along the seashore, and requires a back country permit) is the Atlantic Ocean.  The generally clear blue-green waters of this coastal destination is a gem displayed in a natural setting. Beach activities in this undeveloped can be a memorable experience for visitors to the Florida Space Coast area.
The surf at Playalinda Beach can occasionally be much rougher than on other stretches of the state's coastline, providing an excellent opportunity for surfers.  While no one is certain exactly what causes it, the geographic characteristics of the area are thought to be responsible.  The general theory is that the way the Cape (Canaveral) extends into the Atlantic, causes the tide and wind to transverse one another in the area, creating the rougher surf.
If you find that Daytona and other beaches nearby are just too crowded for young children, you will find the opportunity to spend a day at the beach without the hectic pace here.  While you have to worry about children running out into traffic in Daytona or New Smyrna public beaches, there are no such worries at Playalinda or Apollo Beaches.  Traffic is not allowed on the beach and all access is by wooden walkways which are provided to cross the dunes from adjacent parking areas.
Fishing also is a popular activity at the beach, and fishermen can hope to return from a trip with bluefish, whiting, pompano and other sport fish.  Be aware that the Florida saltwater fishing regulations are enforced along this popular fishing destination.  Many the angler has encountered the uncomfortable experience of being fined for not doing some advance preparation and research.
Nudists are another group often drawn to Playalinda and Apollo Beaches.  Visitors to Canaveral National Seashore are occasionally dismayed when they encounter the sans-clothing crowd unexpectedly.  The last parking areas of both Playalinda Beach and Apollo Beach fill up quickly on most weekends since this is the "official" destination for naturist activities in this park.
The naturists congregate in the more remote northern-most areas of Playalinda Beach, or southern-most area of Apollo Beach away from the casual park visitor.  While nudity at Canaveral National Seashore is not lawful, there are no federal laws against it and the park officials focus on enforcing those regulations they are responsible for.  As long as it is not accompanied by lewd or lascivious behavior, the local laws governing public exposure are not generally enforced by the local county law enforcement agencies.
Among the naturally occurring hazards sometimes encountered at the park are the possibility of jellyfish and man-of-war stings, bees, mosquitoes, noseeums and other insects.  Other concerns for visitors include sunburn, rough surf , strong ocean currents and thunderstorms.  Lifeguards are not found in this beach destination, and the area does not have the constant patrolling services encountered at major metropolitan beaches.
Visitors should prepare in advance for common mishaps and quickly seek assistance from the park services office in the event of an emergency.   Cell phone coverage may be sporatic and should be checked before you hit the beach to see if it can be counted on if needed.  Be sure to pick up additional park information when you enter the Canaveral National Seashore
Anyone travelling the eastern area of Florida should try to plan a day (or a week) to explore one of the last truly natural and undeveloped coastal destinations in the state.  Canaveral National Seashore provides a wealth of opportunities for exploring the "Old Florida" shoreline.
Additional articles and links of benefit to Brevard County / Space Coast Florida visitors can also be found at Space Coast Florida, so be sure to check out some of the tools and area resource links provided there.