Florida Birding Trail Guides For Download & Print
The 4 sections of the Florida Birding Trail Guides have links provided on this page of Florida Nature Guide. For those unfamiliar with these guides, please notice that an overview of the area is near the end of some booklets, rather than as an index at the beginning. It may be helpful to check this section out for familiarization with the area before attempting to locate any individual trail of interest.
These links are to Adobe PDF files and require Adobe Reader or compatible application to view or print. If you do not currently have this software installed, you may install it free by following this link: (Adobe Reader Link). If you do not wish to install the Google toolbar, be sure to deselect that option before continuing if selected. ** Note ** This download will require a reboot to complete the installation.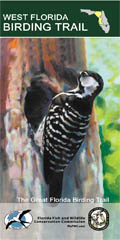 Click on the guide of interest to download and view or print the associated publication.
These guides are a great field reference for your birding adventures in Florida. Trail overviews and general purpose maps can greatly increase your opportunities to get outdoors and explore the many natural areas
Note: The link included for the Panhandle trail guide is of a previous issue. The latest guide available for this section requires a Scribed user account if you wish to download for printing purposes, but is available by following the Florida Birding Trail links provided in our menu options above if desired.