Wildlife Viewing Activities and Tools for Florida Wildlife
This section of Florida Nature Guide has been developed to provide valuable links, articles and other resources for those seeking to observe and/or photograph Florida wildlife in the less traveled natural areas of the state. Tools available within this section are intended to enhance the activities of those wishing to experience wildlife observation in the many diverse ecosystems encounterd in Florida.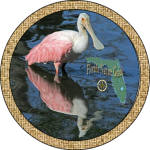 Click on the graphic to the right to access the wildlife viewing section of Florida Nature Guide. In this section, you will be able to locate, identify and download free field guides for many of the interesting wildlife species found in Florida. ►
The focus in these pages revolves around viewing opportunities for not only the unique wildlife species found in Florida, but includes helpful tools for all wildlife viewing interests. Our Florida Nature Guide visitors will also find that some of the Florida species which are often of key interest to Florida visitors have additional pages related specifically to those local inhabitants. Some of our popular top picks include alligators, manatees, dolphin, sea turtles, and many of the exotic and unusual birds who make Florida their home.
Within this section, you will find additional tools of interest including downloadable wildlife identification guides, online links to wildlife guides, articles of interest and links to agencies or organizations focused on Florida wildlife interests. Florida birds, reptiles, butterflies, mammals, and all manner of aquatic species are featured here.