Rich Grissom Memorial – Viera Wetlands Overview
Visitors and residents of the central Brevard county area who would like to observe a wide variety of Florida wildlife species in one area should jump in the car and drive out to the Viera Wetlands conservation area just a short hop off I-95.  This smaller version of Black Point Wildlife Drive (located in the Merritt Island Wildlife Refuge area near Titusville) has become a popular destination for naturalist adventures throughout the Space Coast as well as the local Viera, Florida area for good reason.
The wetlands (properly called Rich Grissom Memorial Wetlands … (named for a long term employee of the adjacent water treatment plant) have been created as a conservation area with a wide variety of wildlife in mind.  While birding is always a popular activity in the Viera Wetlands, the area is home to numerous mammals, reptiles, amphibians, butterflies and just about any other wildlife found in the central Florida wetland environments.  The lake and associated ponds; along with native flora have been created to support a more diverse ecosystem than found anywhere else close at hand (other than perhaps the Brevard Zoo located just a few miles to the East).
Similar to famed Black Point Wildlife Drive, the berms created to support the Viera Wetlands are unpaved and one-way with a posted speed limit of 10 mph.  The roadway is well maintained, but may on occasion be closed after heavy rains to avoid further erosion.  Visitors at these times will find that biking and hiking along this drive is welcome whenever the park is open to public access.  Individuals who would like to visit the Viera Wetlands and are concerned about current road conditions can call (321) 255-4488 for up-to-date information.
Unlike Black Point Wildlife Drive, this area consists of only approximately 200 acres and can be toured by automobile in less than 30 minutes.  Our recommendation however, is that you plan to spend a bit more time exploring this unique ecosystem since you will have abundant opportunities to observe Florida wildlife in a seldom encountered natural environment.
Within this relatively small area, visitors will encounter on a regular basis; a collection of birds and other wildlife which would require hours of travel along the Black Point Wildlife Drive.  Photographer and Master Naturalist: Charlie Corbeil is a frequent visitor to the Viera Wetlands and has compiled a huge collection of impressive photographs for this area.
The photo to the right is one of Charlie's photos from his gallery.  You can click on the image for a larger view.  Clicking on the credit below the photo will open Charlie's Viera Wetlands gallery (those interested in this area are highly encouraged to take a look … many of the photos are quite incredible).
Charlie also offers tours of the wetlands and enjoys sharing his knowledge of Florida nature with those interested.  He can be contacted via his photo gallery page, or by email at: cfc@cfl.rr.com .
Another good source of information for wildlife viewing in this conservation area is from Wildlife South.  You can follow this link to their Viera Wetlands Article for more information.  They also have some good, clear and concise information about bird identification, camping and other naturalist interests available from associated menus.
Remember:  As you drive along the roadways in the Viera Wetlands, you will probably want to stop for some photo opportunities of your own.  Be respectful of others and allow room for those who already have plenty of alligator photos the opportunity to move past.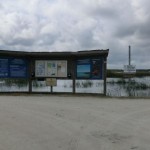 Be sure to stop by the kiosk as you enter the wetlands to pick up a Viera Wetlands bird identification guide.  This pamphlet is printed in color and usually stocked along with other wetlands information which is of benefit to your outdoor adventure.  Many of the birds identified in this guide will also be found during your other Florida excursions, so keep it handy.
Another article for wildlife viewing enjoyment is the Viera Wetlands Wildlife Checklist.  Print this guide before your trip to get an idea of the many species to be on the lookout for in this natural area.
Rich Grissom Memorial "Viera" Wetlands Map
Area Notes:
At times the water treatment facility adjacent to the Viera Wetlands produces an unpleasant odor.  While this can be a distraction during your visit initially, it is not usually a major problem, and most visitors find that they do not notice it after a few minutes.
Visitors to the Viera Rich Grissom Memorial Wetlands who find the water treatment area a distraction, or would like to walk, bike, or drive a less traveled route will often find the Dan "Click" Ponds located North of and adjacent to the Duda Sod farm (Click Pond Map) a rewarding side trip.  Follow the road to the left when leaving the Viera Wetlands, turn left again, and then right through the open gate before the sod farm.  These ponds are accessible by car, but the roadway is less maintained and can be more welcoming for those wanting to hike without as many vehicles.
The Moccasin Island Tract (which is part of the River Lakes Conservation area) has recently become a frequent destination for visitors to the Rich Grissom Memorial Wetlands.  Before you make the trip down this 3.5 mile unpaved road, read our article on Space Coast Florida to get a better idea what to expect.  Click this link to our Moccasin Island Overview Article.